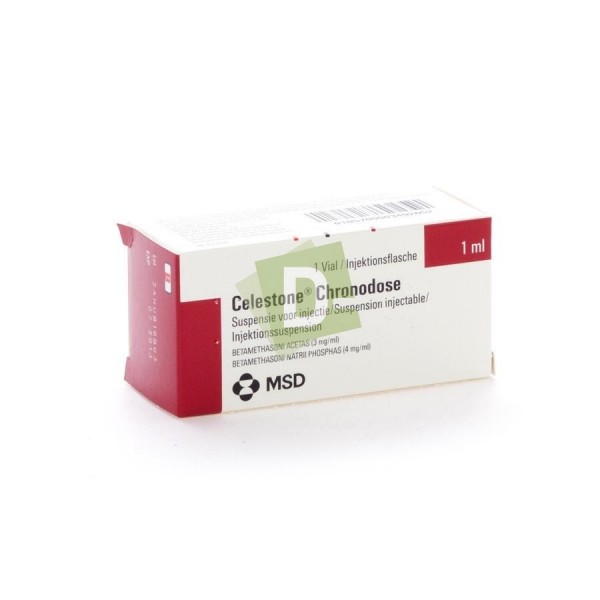 Celestone Chronodose Injection 1 x 6 mg / 1 ml

Delivery within 1 or 2 days
Indications
Glucocorticoids should be considered as a symptomatic treatment of various ailments, of which they generally make it possible to attenuate or eliminate the phases of exacerbation, by short or medium term administration.
Intramuscular injection
Rheumatologic disorders - Dermatologic disorders - Allergic and other disorders known to respond to corticosteroid therapy - Bursitis
Intra-articular and periarticular injection
Rheumatoid arthritis - Osteoarthritis
Injection directly into soft tissue
Bursitis - Inflammatory conditions of the joint such as tenosynovitis - Inflammatory conditions of the muscles such as fibrositis and myositis - Inflammatory conditions of the joint
Intralesional injection
Dermatological conditions
Local injection
Podological disorders
Allergic states
Status asthmaticus - Chronic bronchial asthma - Seasonal or aperiodic allergic rhinitis - Severe allergic bronchitis - Contact dermatitis - Atopic dermatitis - Hypersensitivity reactions to drugs or insect bites
Rheumatic diseases
Post-traumatic osteoarthritis - Osteoarthritic synovitis - Rheumatoid arthritis - Acute and subacute bursitis - Epicondylitis - Acute nonspecific tenosynovitis - Myositis - Fibrositis - Tendinitis - Acute gouty arthritis - Psoriatic arthritis - Lower back pain - Kysticula - Lumbisago - Lumbisago -
Collagen diseases
Lupus erythematosus - Scleroderma - Dermatomyositis
Dermatological diseases
Localized infiltrated hypertrophic lesions of lichen planus - Psoriatic plaques - Granuloma annulare - Neurrodermatitis (chronic lichen simplex) - Keloids - Discoid lupus erythematosus - Lipoid necrobiosis of diabetics - Area alopecia
Podological disorders
Bursitis under horn, under callus, under heel spur, under hallux rigidus and on varus little toe - Synovial cyst - Tenosynovitis - Cuboid periostitis - Acute gouty arthritis - Metatarsalgia
Prenatal use in prevention of respiratory distress syndrome of prematurity
Prophylactic treatment for hyaline membrane disease in premature infants when given to the mother (before the 32nd week of pregnancy) before birth
Celestone Chronodose should also be considered prophylactically when the lecithin / sphingomyelin ratio is known to be very low in the fetus or when there is a decrease in the foam stability test on amniotic fluid. .
Corticosteroids are not useful in treating hyaline membrane disease after birth.
Neoplastic diseases
Palliative treatment of leukemia and lymphoma in adults as well as acute leukemia in children
Administration mode
Shake before use.
Systemic administration
Diseases requiring systemic corticosteroid effects can be adequately controlled with intramuscular injections of Celestone Chronodose. The rapid and prolonged action of this product makes it suitable for starting treatment in acute cases where the inflammation must be brought under control quickly while continuing to control it. The delayed effect of the drug helps prevent upsurges associated with irregular maintenance of corticosteroid effects.
In most cases, treatment is started with an intramuscular injection of 1 ml of Celestone Chronodose and this injection is repeated once a week or more, if necessary.
In milder cases, lower doses will usually be sufficient. In severe illness (eg status asthmaticus or systemic lupus erythematosus), it may take 2 ml to start treatment.
The initial dose should be kept or should be adjusted until a satisfactory response is obtained. If, after a reasonable period of time, no satisfactory clinical response is observed, treatment should be discontinued by gradually reducing the dose of Celestone Chronodose and another suitable treatment chosen.
Local administration
If co-administration is desired, Celestone Chronodose can be mixed, in the syringe and not in the vial, with 1 or 2% lidocaine hydrochloride, with procaine hydrochloride or with similar local anesthetics, using formulations that do not contain parabens. Avoid using anesthetics containing methylparaben, propylparaben, phenol, etc. The required dose of Celestone Chronodose is first withdrawn from the vial into the syringe. Then the local anesthetic is withdrawn and the syringe is shaken briefly.
Composition
Betamethasone acetate 3 mg / ml (equivalent to betamethasone 2.7 mg / ml) - betamethasone disodium phosphate 4 mg / ml (equivalent to betamethasone 3 mg / ml)
Excipients with known effect :
Celestone Chronodose contains benzalkomium chloride (0.20 mg / ml)
List of excipients
Disodium phosphate dihydrate (E339) - monosodium phosphate dihydrate (E339) - sodium edetate - benzalkonium chloride - water for injections
Contraindication
-Hypersensitivity to the active substances or to any of the excipients listed in section 6.1.
Use
THE DOSE IS VARIABLE AND MUST BE ADAPTED TO THE PATIENT'S INDIVIDUAL NEEDS DEPENDING ON THE CONDITION TREATED, ITS SEVERITY AND THE PATIENT'S RESPONSE.
In the event of bursitis (sub-deltoid, subacromial and prerotulis), an injection of 1 ml directly into the bursa relieves pain and restores full range of motion within a few hours. Several injections into the bursa at intervals of 1 to 2 weeks are usually necessary in cases of recurrent acute bursitis and in cases of acute exacerbations of chronic bursitis.
In tendonitis, myositis, fibrositis, tenosynovitis, peritendinitis and periarticular inflammatory conditions, 3 or 4 local injections of 1 ml each, at intervals of 1 to 2 weeks, are recommended in most cases. The injection should be made into the affected tendon sheaths rather than into the tendons themselves. In case of periarticular inflammatory disease, the painful area should be infiltrated. In the event of the appearance of lymph node joint capsules, 0.5 ml should be injected directly into the lymph node cysts.
With rheumatoid arthritis and osteoarthritis, pain, soreness and stiffness may be relieved within 2 to 4 hours after the intra-articular injection. The doses are between 0.25 and 2 ml, depending on the size of the joint to be treated.
The recommended doses are:
large joints (e.g. knee, hip): 1 to 2 ml
middle joints (e.g. elbow): 0.5 to 1 ml
small joints (e.g. hand): 0.25 to 0.5 ml
Relief usually lasts 1 to 4 weeks or more. Using a sterile method, a 29 to 24 G needle mounted on an empty aspirating syringe is inserted into the synovial cavity and a few drops of synovial fluid are withdrawn to confirm that the needle is in the joint. The suction syringe is replaced by the syringe containing Celestone Chronodose and the injection is then made into the joint.
In intralesional treatment, 0.2 ml / cm 2 of Celestone Chronodose is injected, intradermally and not subcutaneously, by means of a tuberculin syringe fitted with a 25 G needle of 1.27 cm. Care must be taken to achieve a uniform deposition of drug in the dermis. The total amount injected for all the injection sites should not exceed 1 ml.
Corticosteroid-sensitive foot disorders
Bursitis under a horn can be overcome with two successive injections of 0.25 ml each. In conditions such as hallux rigidus (flexion deformity of the big toe), little toe varus (inward deviation of the little toe), and acute gouty arthritis, relief may begin quickly. A tuberculin syringe with a 25 G needle of 1.9 cm is suitable for most injections into the foot. For most foot conditions, it is recommended to use doses of 0.25 to 0.5 ml at intervals of three to seven days. In acute gouty arthritis, doses of up to 1 ml may be needed.
In the event of a favorable response, the appropriate maintenance dose should be determined by gradually decreasing the initial dose in small increments at suitable intervals until the lowest dose providing an adequate clinical response is reached.
-Hypersensitivity to corticosteroids;
- Systemic fungal infections.
Celestone Chronodose cannot be used for intraspinal administration.
3 other products in the same category: