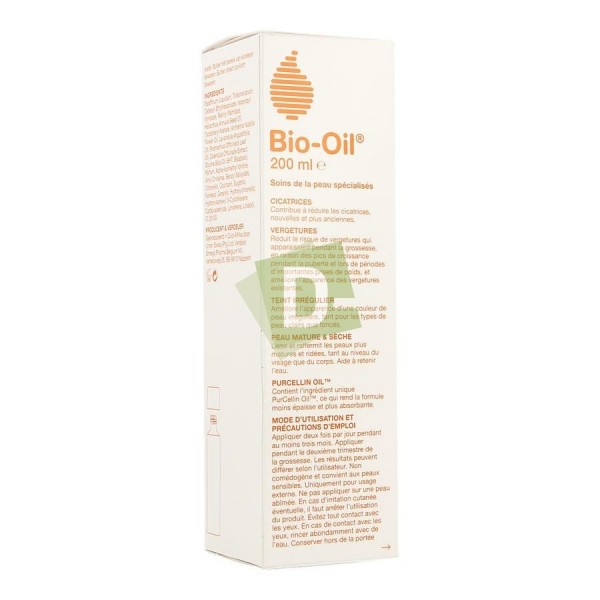 Bio-Oil Regenerating Oil 200m
Delivery within 1 or 2 days
Indications
External use
For sensitive skin
For body and face
For the elasticity of the skin
For aging and / or parched skin
For scars, stretch marks and uneven skin tone
For legislative reasons, Bio-Oil is called Bi-Oil in France. These two products are therefore identical, only the name differs.
A specialized skin care product formulated to help improve the appearance of scars, stretch marks and uneven skin tone. Bio-Oil is also recommended for pigmentation spots and aging and dehydrated skin.
A hypoallergenic, non-comedogenic formula that can even be used on people with sensitive skin.
Bio-Oil is easily absorbed and has a non-greasy base. The composition is intended for application to the face and the body.
A clinical study has shown that Bio-Oil helps to improve the appearance of all types of scars, both recent and older ones or existing stretch marks. In addition Bio-Oil increases the elasticity of the skin thus reducing the formation of new stretch marks.
The most produced:
Not fat
Vitamins A and E
Hypoallergenic
Absorbs quickly.
Suitable for sensitive skin
Marigold, lavender, rosemary and chamomile oil
Bio-Oil is enriched:
1. Natural vegetable oils: Marigold oil, lavender oil, chamomile oil and rosemary oil - help maintain skin condition. These oils are known for their purifying, healing, softening and calming actions.
2. Vitamins: Their strength before use is preserved in an oily base without oxygen.
- Vitamin A: promotes elasticity and texture of the skin.
- Vitamin E: anti-oxidant, increases the moisture level in the skin. Promotes the growth and maintenance of healthy skin.
3. PurCellin Oil: Unique ingredient - a synthetic oil developed in the laboratory from the complex secreted by the duck rump gland with double action:
- Makes the oil finer to obtain the pleasant properties of a cream. This allows rapid and in-depth absorption.
- An oil (without oxygen) is the ideal preservation medium and transport system for other ingredients, allowing vitamins and vegetable oils to retain their potential strengths.
2 other products in the same category: